NEW YORK CITY CENTER FOR PERFORMING ARTS, NY, NY
April 29th to May 5th, 2019
Répétiteur, curated by Deborah G. Davis and Stanford Makishi, will return for a third and final viewing at the Harkness Studio from April 29th to May 5th, 2019.

Répétiteur, a site-specific art installation, is part of New York City Center inaugural program of visual art commissions and the Merce Cunningham Centennial. Since its founding as Manhattan's first-ever performing arts center, New York City Center has been a home to artists from the worlds of dance, theater, opera, and music. In honor of the 75th Anniversary Season, City Center has commissioned a program of visual art, featuring the works of Jorge Otero-Pailos, photographer Nina Robinson, and conceptual artist Lawrence Weiner.
Otero-Pailos draws attention to the material residue that the seemingly immaterial transfer of dance knowledge leaves behind: the dust and other residue left on the surfaces of the room by the labor of dancers. Transferring this residue onto illuminated peelings that cast the rehearsal room in an unusual, meditative light, the artist introduces a mesmerizing sound collage to accompany each piece, highlighting how dancers learn choreography by Merce Cunningham from Patricia Lent and other stagers of his work. The installation is an inspiring expression of the history, memory, and impermanence of dance and derives its name from the term "répétiteur," a person entrusted with teaching, coaching, and rehearsing a choreographer's work.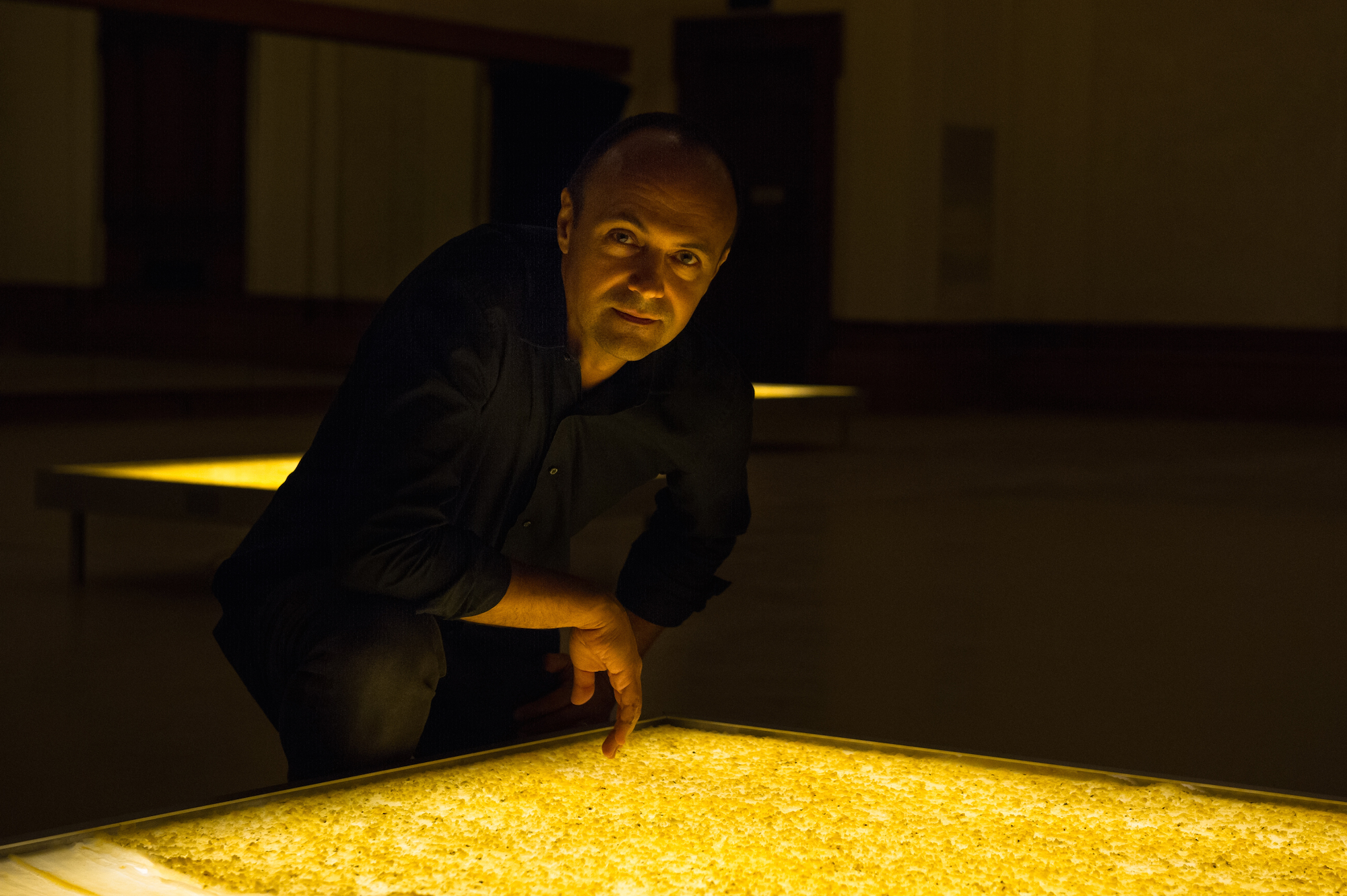 "Jorge Otero-Pailos aims to make something permanent and tangible from the fleeting impermanence of a dance performance." —ArtNet
Répétiteur by Jorge Otero-Pailos
Harkness Studio
New York City Center
130 W 56th St, 4th Floor
Free and open to the public:
Apr 29 - May 5, 10 am – 6 pm
To arrange private group tours, contact Laurence Lafforgue at laurence@oteropailos.com.
Installation view of Courtesy of Paula Lobo and SOE Studio, © Jorge Otero-Pailos